KUPOWAĆ Train Simulator: Hamburg-Lübeck Railway Route (DLC) CD Key Steam
As one of the most important routes in the state of Schleswig-Holstein, the Hamburg-Lübeck Railway forms part of the Vogelfluglinie, connecting Germany's second largest city with the capital of Denmark, Copenhagen.
Initial plans to build a direct railway between the two German cities were drawn up in 1831, however it was another 34 years until the railway actually opened. Previous to the direct route, trains had to travel via Büchen to join the Berlin-Hamburg railway, a diversion approximately 32km (20 miles) longer than the direct route.
Today, the Hamburg-Lübeck Railway has the highest passenger numbers in Schleswig-Holstein, and starts out at Hamburg Hauptbahnhof, the second busiest station in Europe. On departure, the route heads north-east through the suburbs of Hamburg, crossing connecting lines to Hannover, Berlin, Harburg and Hamburg Airport.
Between Hamburg-Rahlstedt and Ahrensburg, the line runs alongside the Stellmoor tunnel valley, and at Bad Oldesloe, the line connects with hourly services to Bad Segeberg and Neumünster, making it the most important intermediate stop on the line. From Bad Oldesloe, the line heads east to Reinfeld before turning north into Lübeck Hauptbahnhof.
Standard services on the line are usually formed of a DB BR 143 or DB BR 218 hauling double decker coaches and the S-Bahn uses DB BR 474.3s, with Regionalbahn services operated by DB BR 648s. ICE TD and IC3 units also run on the route, although since the construction of the Great Belt Bridge between Funen and Zealand, long-distance rail traffic has significantly reduced on the route.
Starting in 2017, upgrades to the Hamburg to Bad Oldesloe section will see new stations at Claudiusstraße, Bovestraße, Holstenhofweg and Pulverhof for S-Bahn operations.
The Hamburg-Lübeck Railway route add-on for Train Simulator includes a number of prototypical rolling stock, including the DB BR 145 electric locomotive, DB BR 218 diesel hydraulic locomotive and DBAG BR 294 diesel freight shunter.
Scenarios
Seven scenarios for the route:
Lübeck to Hamburg: Part 1
Lübeck to Hamburg: Part 2
Hamburg to Lübeck: Part 1
Hamburg to Lübeck: Part 2
Rescue Requirement
Impartial Marshal
Hardship Harbour
More scenarios are available on Steam Workshop online and in-game. Train Simulator's Steam Workshop scenarios are free and easy to download, adding many more hours of exciting gameplay. With scenarios being added daily, why don't you check it out now!
Click here for Steam Workshop scenarios.
Key Features
64km (40 mile) route between Hamburg and Lübeck
DB BR 145 electric locomotive
DB BR 218 diesel hydraulic locomotive
DBAG Class 294 diesel freight shunter
Scenarios for the route
Quick Drive compatible
Download size: 1,713mb
Ostatnie artykuły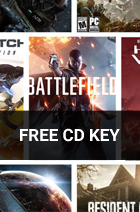 Wygraj DARMOWE klucze CD z SmartCDKeys.com
SmartCDKeys daje każdemu darmowe klucze CD!