In this set:
The main game "Atelier Marie Remake: The Alchemist of Salburg"
Full original game "Atelier Marie Plus: The Alchemist of Salburg" included!
Gust Extra BGM Pack
"Another Look" Costume Set (Set of 33)
Note:
Atelier Marie Plus" is a port of the original version. You can play the game with the same feeling as when it was first released, in modern graphics, and in the same language as the main game.
Costumes from the "Another Look" Costume Set can only be utilized for characters that have joined your party.
Marie has been trying to learn alchemy at the Royal Academy of Magic (the Academy) but has been consistently unsuccessful. Her lecturer gives her an atelier to use as a sort of capstone project one day. Marie has to do something that will wow her teacher before she can graduate.
But before she can recruit adventures and stock up on recipes and tools, Marie must perfect her alchemy talents, gather materials, and make money. It's evident that she has a lot of work to do before she's ready for her exam, what with the synthesis, battles, and missions she has to complete.
You get to decide where to get started! Make progress toward your Academy diploma at your own pace, and remember to have fun along the way.
This New Version Includes:
Fresh visuals! Marie and her pals, brought to life with cutting-edge CGI!
The remake has updated character designs, illustrated events, and the addition of 2D animations. Players may now take pleasure in viewing adorable little characters as they navigate the map and explore the various areas thanks to the integration of 3D representations of characters and stages.
The original concept of the Atelier series, updated for maximum accessibility.
The game's simplicity and adaptability have been preserved while the tutorial and navigation of its features have been upgraded. Moving about the city and gathering goods in the field have also been updated to make the remake more playable and pleasant for current gamers.
Additional features have been introduced to improve the gaming experience.
Newcomers to the Atelier series and veterans of the original game will both enjoy the many improvements made for the remake. You may take your time exploring the world of "Atelier Marie" thanks to the new Unlimited Mode that slows down the action, and the new events that allow you to meet and talk to new people.
Παρακολουθείτε όλα τα καταστήματα με οποιονδήποτε τρόπο πληρωμής. Υπενθυμίζουμε ότι ορισμένα καταστήματα ενδέχεται να χρεώνουν προμήθειες πληρωμής.
9 προσφορές από
$
44.96 εως
$
64.16
Τρέχει στο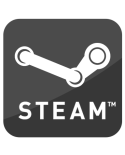 Ιστορικό τιμών
TRUSTPILOT - 4.6⭐ / 5
Με μια θετική κριτική, μπορείτε να κάνετε τον ιστότοπό μας να μεγαλώσει. Εάν αναπτυχθούμε, θα προσφέρουμε περισσότερες εκπτώσεις, δωρεάν CD-Key και θα βελτιώσουμε επίσης τις υπηρεσίες μας. Αν θέλετε να μας πείτε κάτι, επικοινωνήστε μαζί μας στα κοινωνικά δίκτυα.