Valkyria Chronicles 4 - A Captainless Squad (DLC)
Preisentwicklung
"Winter, 1935 EC. Squad E, traveling now aboard the snow cruiser Centurion, notices one day that rescue dog Ragnarok has gone missing. Feeling guilty for neglecting him, members of Squad E sneak out to find the lost pup.
Before long, though, they find themselves embroiled in a "picnic" of a decidedly unpastoral nature...
This story can be played after completing Chapter 10 of the main story. To access this story, go to Book Mode > Menu > Extra Stories."
Purchase of this or any other Valkyria Chronicles 4 DLC will add two additional DLC to your Steam library for free, 'Advance Ops' and 'A United Front with Squad 7'. (One copy of each free DLC per customer only.)
Sie sehen alle Shops mit jeder Zahlungsart. Wir erinnern Sie daran, dass einige Geschäfte möglicherweise Zahlungsprovisionen erheben.
Es gibt 3 Angebote von $3.83 bis $9.51
Neueste Artikel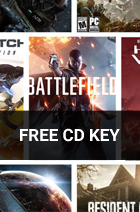 Gewinnen Sie KOSTENLOSE CD-Key mit SmartCDKeys.com
SmartCDKeys gibt kostenlose CD-Keys für alle!
Vergleichen und finden Sie günstige STEAM CDKey Preise
SmartCDKeys hat die günstigsten Preise.