Star Wars Battlefront - Season Pass (DLC) (PS4)
NOTE: This is a season pass, full game not included.
Expand your galaxy with the Star Wars Battlefront Season Pass. Get 4 upcoming expansion packs filled with new content that will take you to new locations across a galaxy far, far away. Act now to secure two-week early access to each expansion pack and an exclusive "Shoot First" emote.
Es gibt 3 Angebote von 5.68
€
bis 7.99
€
Dieses Produkt ist für
Neueste Artikel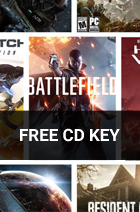 Gewinnen Sie KOSTENLOSE CD-Key mit SmartCDKeys.com
SmartCDKeys gibt kostenlose CD-Keys für alle!