Monster Hunter World Deluxe Edition
Preisentwicklung
Welcome to a new world! Take on the role of a hunter and slay ferocious monsters in a living, breathing ecosystem where you can use the landscape and its diverse inhabitants to get the upper hand. Hunt alone or in co-op with up to three other players, and use materials collected from fallen foes to craft new gear and take on even bigger, badder beasts!
The digital deluxe edition includes the following content:
Layered armor sets will change the look of your armor without changing the properties underneath. Equip this Samurai set over your favorite armor to take on the striking appearance of a feudal Japanese samurai warrior!
Note : No weapons are included with this set
Gesture: Zen
Gesture: Ninja Star
Gesture: Sumo Slap
Enjoy three new amusing gestures you can use when interacting with other players in the game.
Sticker Set: MH All-Stars Set
Sticker Set: Sir Loin Set
Fun stickers you can use when chatting with other players in the game.
Add a new face paint for character customisation in Monster Hunter: World.
Adds a new hairstyle for character customisation in Monster Hunter: World.
Sie sehen alle Shops mit jeder Zahlungsart. Wir erinnern Sie daran, dass einige Geschäfte möglicherweise Zahlungsprovisionen erheben.
Es gibt 4 Angebote von $33.76 bis $75.92
Neueste Artikel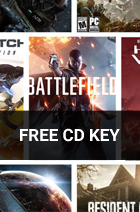 Gewinnen Sie KOSTENLOSE CD-Key mit SmartCDKeys.com
SmartCDKeys gibt kostenlose CD-Keys für alle!
Vergleichen und finden Sie günstige STEAM CDKey Preise
SmartCDKeys hat die günstigsten Preise.