Hearts of Iron IV (4): La Résistance (DLC)
Preisentwicklung
Uncover Enemy Secrets in Hearts of Iron IV: La Résistance
The enemy has installed a puppet government in an allied nation. Brave individuals promise to fight against their occupiers and oppressors. Use your agile espionage skills to support the work of La Résistance.
La Résistance adds secret agents, espionage missions and new options for resistance movements to Hearts of Iron IV, the popular grand strategy wargame from Paradox Development Studio. Send agents into dangerous territory to decipher enemy secrets or prepare the ground for your invasion by propping up collaborators who will be happy for any taste of power.
Features
NEW FOCUS TREE FOR FRANCE - New National Focuses for Free France and the Vichy Regime, as well as as an option for conservatives to restore the old French Monarchy
MORE IN DEPTH SPANISH CAMPAIGN - New National Focuses for Republican and Nationalist Spain, as well as an expanded
PORTUGUESE NATIONAL FOCUSES - New unique focus tree for Portugal. Restore Portuguese naval power, strengthen the overseas empire or intervene in the Civil War next door
ESPIONAGE - Use you Intelligence Agency to train spies to specialize in certain types of information warfare and develop passive resistance to enemy espionage, then send them on special operations
SUPPORT RESISTANCE - Use your agent to assist allied resistance movements, giving them what they need to damage the enemy
COLLABORATION GOVERNMENTS - Use your agents to prepare the ground for collaborators to fill the void once you've conquered your target
CODE CRACKING - Decrypt enemy communications to gain short team battlefield advantages
RECON UNITS - Scout planes can provide useful information on nearby areas while armored cards help in detecting and suppressing resistance activities
Sie sehen alle Shops mit jeder Zahlungsart. Wir erinnern Sie daran, dass einige Geschäfte möglicherweise Zahlungsprovisionen erheben.
Es gibt 10 Angebote von $16.79 bis $24.06
Neueste Artikel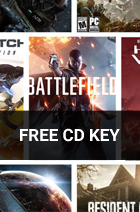 Gewinnen Sie KOSTENLOSE CD-Key mit SmartCDKeys.com
SmartCDKeys gibt kostenlose CD-Keys für alle!
Vergleichen und finden Sie günstige STEAM CDKey Preise
SmartCDKeys hat die günstigsten Preise.