Cities: Skylines - Synthetic Dawn Radio (DLC)
Get in the groove with some stellar tunes from Synthetic Dawn, the most far-out radio station to land in Cities: Skylines, ever! This channel features 16 original new songs, both instrumental and vocal jams, spanning four unique genres: 80s Electro, Vocoding Electro, Breakbeats and Futuristic Synths. Tune in and zone out as synth-spin master DJ Jessica Statler brings the funk to Synthetic Dawn Radio.

Dieses Produkt ist für
Neueste Artikel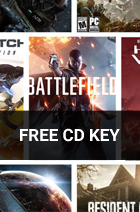 Gewinnen Sie KOSTENLOSE CD-Key mit SmartCDKeys.com
SmartCDKeys gibt kostenlose CD-Keys für alle!