Aliens vs. Predator Collection
Preisentwicklung
Contents of the Aliens vs. Predator Collection:
Aliens vs Predator (original game)
Bughunt Map Pack (DLC)
Swarm Map Pack (DLC)
Bringing the legendary war between two of science-fiction's most popular characters to FPS fans, AvP delivers three outstanding single player campaigns and provides untold hours of unique 3-way multiplayer gaming. Experience distinctly new and thrilling first person gameplay as you survive, hunt and prey in the deadly jungles and swamps surrounding the damned colony of Freya's Prospect.
Sie sehen alle Shops mit jeder Zahlungsart. Wir erinnern Sie daran, dass einige Geschäfte möglicherweise Zahlungsprovisionen erheben.
Es gibt 12 Angebote von $7.57 bis $23.85
Neueste Artikel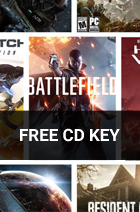 Gewinnen Sie KOSTENLOSE CD-Key mit SmartCDKeys.com
SmartCDKeys gibt kostenlose CD-Keys für alle!
Vergleichen und finden Sie günstige STEAM CDKey Preise
SmartCDKeys hat die günstigsten Preise.