Steel Division: Normandy 44 - Second Wave (DLC)
Second Wave is the first Division Pack for Steel Division: Normandy 44, expanding your tactical possibilities to dominate your enemy during the Invasion of Normandy. Take control of 4 new divisions : The American 4th Armored, the British Commando Brigade, the 9. Panzerdivision and the 16.Luftwaffe, each one of them designed to bring new flavour to the game.
Lead 35 new units into the battle, including the famous M18 Hellcat tank destroyer. Use the new Storch aerial artillery observer to spot your enemy and unleash hell on his units.

Second Wave also includes an exclusive cosmetic Ace: the Lieutenant-Colonel Creighton Williams Abrams and his famous M4(75) command tank.

The divisions in Second Wave are made up of new units, paired with existing ones from the base game. The DLC features the following new units per division:

4th Armored:
M18 Hellcat M12 GMC
M30 Cargo
Bantam
16. Luftwaffen-Felddivision:
Flakzwilling 43 NAG Flak Drilling
NAG Flak 37mm
FT-17
FT-31
Flakpanzer Bren
UE 630(f)
1st Special Service Brigade:
Hellcat I Wildcat V
Morris LRC
Seafire L.III
Commando Kiefer
Royal Marines Commando
Seafire F.III
6 Commando
30 Assault Unit
9. Panzer:
Panzer I CSdKfz 263
Panzer II L Luchs
Der er 13 tilbud fra
$
2.69 til
$
8.98
Dette produkt er til
Seneste artikler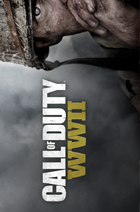 Where to buy CD Key of Call of Duty World War II (2)
Get cheap Call of Duty World War 2 CD Key today.